Where to start reading Voltaire?
Updated: June 8, 2022 by Mylene in Start reading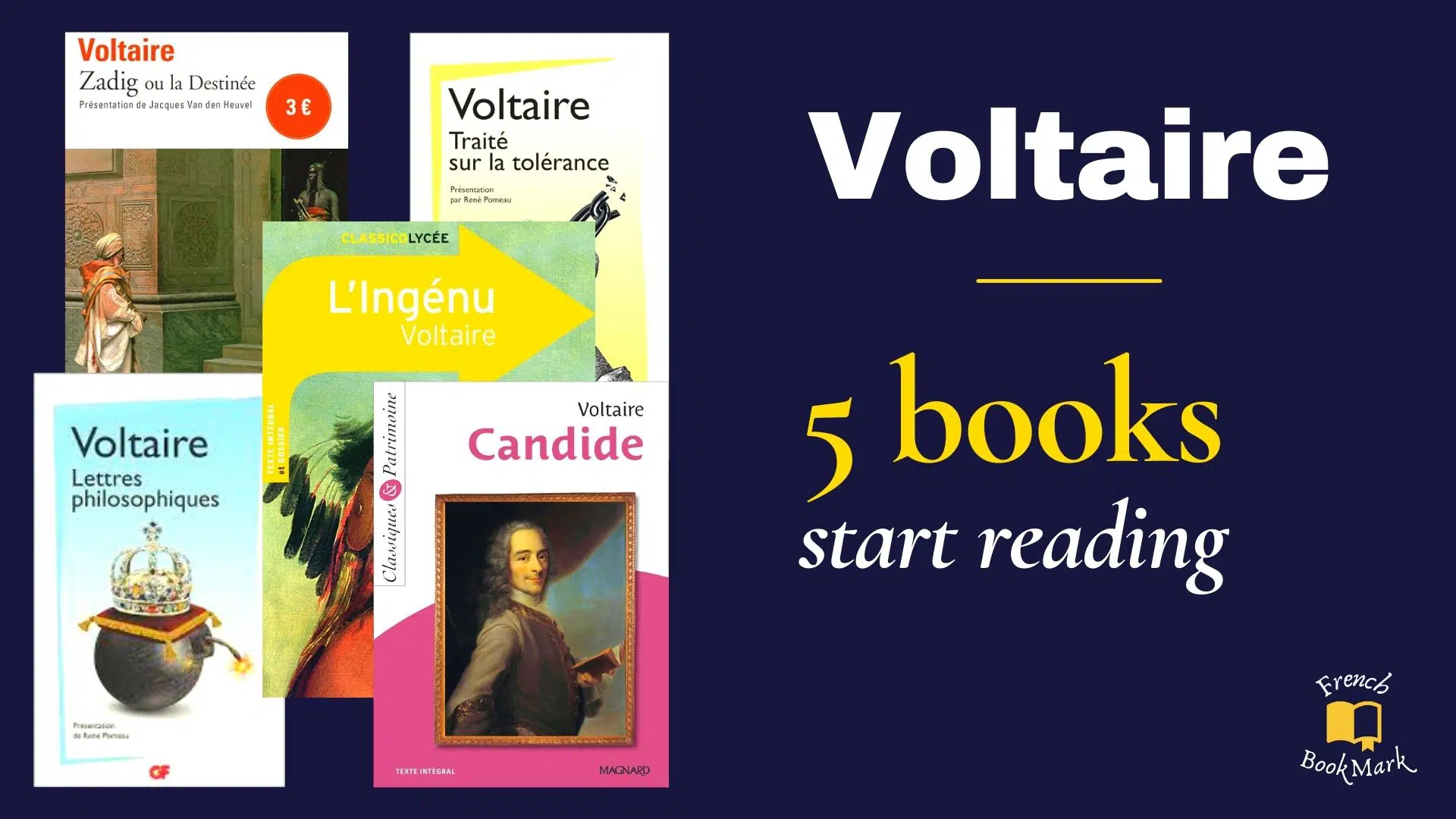 Disclosure: this article may contain links to products or services (including Amazon) that pay me a small commission. This is at no extra cost to you.
Voltaire was an 18th-century French poet, writer, historian, playwright, and philosopher. If you want to start with Voltaire then I advise you to start with the following books.
Voltaire enjoyed great popularity in his own time. With many of his works published as tragedies, tales, poems, and philosophical works, he struck a chord with his exploration of injustice, societal codes, freedom, and religion. And what people loved then, we still love today. Many of its themes remain relevant and resonant, and its characters still seem familiar. But he was a prolific writer; and author of a large number of works. If you've never tried one, or aren't sure which to read next, here's a quick guide to 5 books that are a good place to start.
I suggest you discover the following 5 books:
Why should I read Zadig? (1748)
Zadig is a satire. Voltaire seeks to show that our actions and our words have consequences on people, on facts, and on the search for happiness. It also points out the faults of the powerful: pride, greed, envy, and jealousy. This philosophical tale will please you even if you are not a fan of philosophical reading. The context recalls the universe of the "One Thousand and One Nights" in fashion at that time. Follow Zadig's journey in a story full of adventure and take the opportunity to familiarize yourself with the irony of Voltaire present between the lines. It's one of my two favorite stories. Buy the book.
What can you learn from Candide? (1759)
Candide's moral is that nothing should be taken for granted. Each man must reason for himself. These are thirty short chapters in which Voltaire makes his hero endure a harsh initiatory journey to the four corners of the planet. Candide, an illegitimate son from the Westphalian nobility, is chased from the castle where he has always lived for having dared to lay hands on his delicious cousin Cunegonde, who she didn't feel offended by. This is the opportunity for the young hero to meditate on the dogmas of Pangloss, his master of philosophy who assures him that: all is well in the best of worlds. Voltaire's irony is omnipresent, the naive hero seeks to interpret these few moments of fortune as irrefutable proof of the validity of Pangloss's thesis. What will be your conclusion? Buy the book.
Why should I read l'ingénu? (1767)
In l'Ingénu (the sincere Huron), Voltaire bears witness to the injustices of his time. Through the History of a beautiful Huron from Canada, Voltaire criticizes the absurdities of the customs of a good society. It proves how religion does not respect the codes of its reference, the Bible. There are many derisive scenes like the baptism, then the marriage codes. This story is short and fun to read. As in the three previous writings, we find a naive character who discovers the codes of the society in which he must live. Personally, I loved seeing society under the gaze of the ingenious. A true delight! Buy this book.
Why did Voltaire write Letters on the English? (1734)
Written a few decades before the Encyclopedia, this work heralds the Enlightenment. During his exile across the Channel, Voltaire discovered the great freedom of opinion enjoyed by the English. He set out to transform French society. Being noble is not everything, you can succeed thanks to your talent. Lettres Philosophiques is made up of twenty-five letters that deal with quite varied subjects: religion, science, arts, politics, and philosophy. It's up to you to find out who these letters were intended for? Buy the book.
Why did Voltaire write Treatise on Tolerance(traité de la tolérance)? (1763)
Deeply touched by the injustice of the execution of Jean Calas and after the revelation of many inconsistencies, Voltaire takes hold of this affair. In 1762, Jean Calas, a Protestant, was beaten up in the public square of Toulouse, then executed. He is accused without proof of having killed his son who had converted to Catholicism. Claiming his innocence Calas is not heard. This treaty is a vibrant call for tolerance and freedom of thought. The Treatise on Tolerance is as usual filled with reason and irony. Buy the book.
Learn more
It's a nice list to start reading Voltaire. You can access reading sheets for Candide, l'Ingénu, and Zadig by joining the Book Club.